BSC - Correspondence Course for PO/Clerk Exam in Bank (

Revised & Updated

)
BSC,
the leader in classroom courses in India for Bank PO/Clerk Exams, also brings you the most comprehensive Correspondence Course for Bank PO/Clerk Exams.
The correspondence courses are aimed at those students who prefer to prepare on their own – for various reasons, such as:
• They stay far off and cannot attend classroom courses.
• Their work/academic commitments do not leave them enough time to attend classes.
BSC Correspondence Course
is the closest that one can get to a classroom programme for BANK PO preparation. This course has been prepared based on our , more than two decades in successfully training thousands of students for Bank PO and other Entrance exams. The well-researched course material in our Correspondence Course ensures comprehensive coverage of all basic concepts, with solved examples, short-cuts and strategies for improvement of performance. The basic concepts that are taught in the classroom sessions, covering various test areas, are put together in the form of booklets that will ensure that you derive the same benefits as from the classroom programme. You are given a lot of practice tests, on different topics, covering all the test areas. Our study material and test papers are prepared after carefully researching test papers of previous years, ensuring that you get the best and most relevant course material. This is also revised and updated over time to ensure that you get material that accurately reflects the latest paper pattern.
Our course material is widely acknowledged by students as the most exhaustive and update in the market.
Course Content :
The course enables the students to learn at a pace that is convenient to them. The material is comprehensive and developed with great care to ensure phased learning. Every module has been developed keeping in mind the various patterns and question types that have appeared over several years. Developed by experts, the study material coherently helps the student develop the skills required in different areas. The large number of practice exercises creates test conditions and also provides vital practice. These exercises are supplemented by detailed explanations.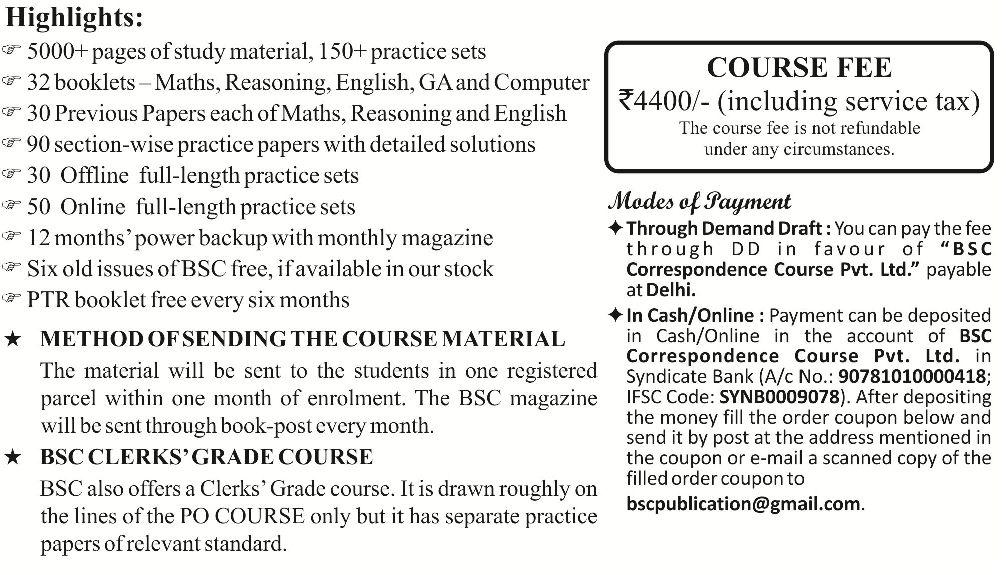 Order Coupon:
[
Click to download Order Coupon Form]